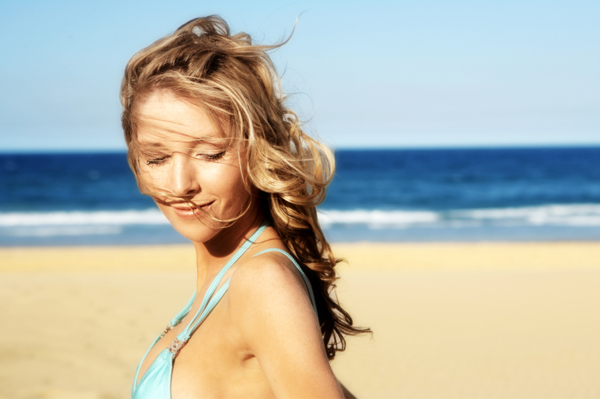 I don't know about you, but the thought of straightening or curling my hair in the humid summertime heat makes me absolutely cringe. Today I spent 45 minutes straightening my thick hair just to immediately put it in a ponytail thanks to the instantaneous frizzing that occurred when I was done. I thought there has to be a way to make your hair look cute in the summertime without using heat—and there is.
1. Wear your hair natural—kind of.
I cannot just let my hair air dry and feel comfortable going out in public. My natural hair has a mind of its own—it waves, curls and frizzes. Luckily I found a couple products to tame the mess. Straight out of the shower, I brush out my hair and work some argan oil through it. Any will work, but my favorite is
FX Moroccan Moisture Argan Oil
. Then, I let my hair air dry slightly before adding
Victoria Secret's So Sexy Soft & Tousled Wave-enhancing Spray
. It usually takes two to three applications, but it's the first wave-enhancing product that I have found to work on my hair!
2. Pick your favorite style of bun and rock it.
There are so many options for buns. You have the sock bun, the messy bun, the topknot and the bow bun. Play around with different buns and find one that works for you. I usually opt for the messy bun, and I get more compliments on that 5-minute-do than when I actually put in effort. My method is simple: shower, brush out your hair, put your hair in an upside down bun and then simply tuck the lose pieces back into the bun. There you have it: Sammie's Messy Bun.
3. Utilize the braid.
There are quite a few options here: You can side braid, French braid or fishtail braid. If you don't know how to do these there are plenty of YouTube tutorials to help you out. You can even combine the braid with other hairstyles. Personally, I like to braid my bangs back and throw the rest in a bun.
I know there are lots of options out there on YouTube or Pinterest for no heat hairstyles. Although I haven't had much success with some of them because of my thick hair, I definitely encourage you to experiment and see what works best for you!
Do you know of other easy-to-do no heat hairstyles? How about no heat hairstyles for other hair types? Spill your secrets in the comments!
By: Samantha Latting