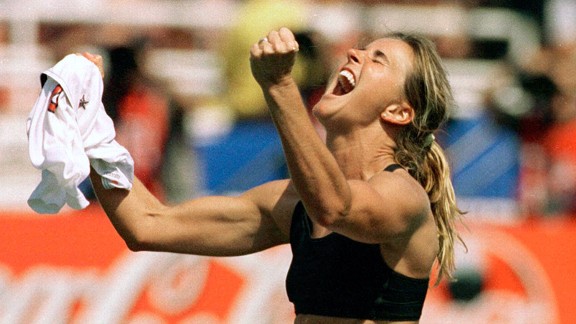 Thinking about getting into sports? Has it always been your passion to play in the WNBA or NWSL? Well if so, be sure to compete like no other. As a woman in sports you have to be better than good enough. Then again, what woman isn't?
The history of sports dates back to the Greek Gods and their races; even before then, to a time when things went misunderstood. Today, sports is still misunderstood. For as long as most can remember being involved in sports has been a masculine trait. Regardless of the physical skill involved in the sport, women are seen as incapable of being taken serious at a competitive level. It is surprising to note that just 41 years ago the Title IX law was passed, prohibiting gender discrimination in every educational program that receives federal funding, especially athletics. Crazy how competitive the world can get. Below is a quick
timeline
of some major events in sports regarding equality and respect for women. (Compliments of northnet.com)
776 B.C. - The first Olympics are held in ancient Greece. Women are excluded, so they compete every four years in their own Games of Hera.
1804 - The first woman jockey was Alicia Meynell of England.
1990 - Bernadette Locke becomes the first female Division I coach of a men's basketball team when she joins the University of Kentucky as an assistant coach to Rick Pitino in June.
2005 - February 9 marks the 19th annual National Girls and Women in Sports Day. The 2005 theme is "More than a Game".
2012 - South Plantation, Fla., backup quarterback Erin DiMeglio becomes the first girl in state history to play quarterback in a varsity high school football game. Although 500 girls have played for Florida football teams, none have ever entered the game as a quarterback.
Basketball, football and baseball are all seen as traditional sports. Two of them offer a women's league, which to many are intermediate leveled, and the other fails to even recognize women as capable for the sport. That is crazy! As women we have to be stronger physically and emotionally when it comes to sports. All of this we are beyond capable of. There has been an array of leading ladies in sports who have put women on the map and protested for equality. This stereotype that women don't know sports or aren't genetically capable is astounding. Living a healthy lifestyle produces healthy athletes, but passion makes great athletes.
Women have come a long way in sports. It is important to continue to encourage present and future generations of women to get out there and compete. College Glossers around the nation are stepping out and doing big things on and off the field. I'm sure it is safe to say now that everything is at an even playing field, so let the games begin!
By: Khadijah McGill | Image:
Source